Want to get your services or products seen by arts professionals around the world? Raise your brand profile in the cultural sector by advertising with Eventotron.
Display Advertising
Eventotron is widely used by festivals, touring seasons and arts events globally. We are an online management system which means advertising with us gets your brand in front of our clients every time they log in. Not only that, every festival or season is working with artists and venues, hugely increasing your ad viewership potential.
Since launching in 2016, Eventotron has been used:
During 2019 the website had:
→ 
Traffic per day at peak times of year = 500+ users
→ 
Average traffic per day = 112 users
→ 
Users spend a lot of time on Eventotron: Average session time: 10mins 13 secs
A banner advert looks like this: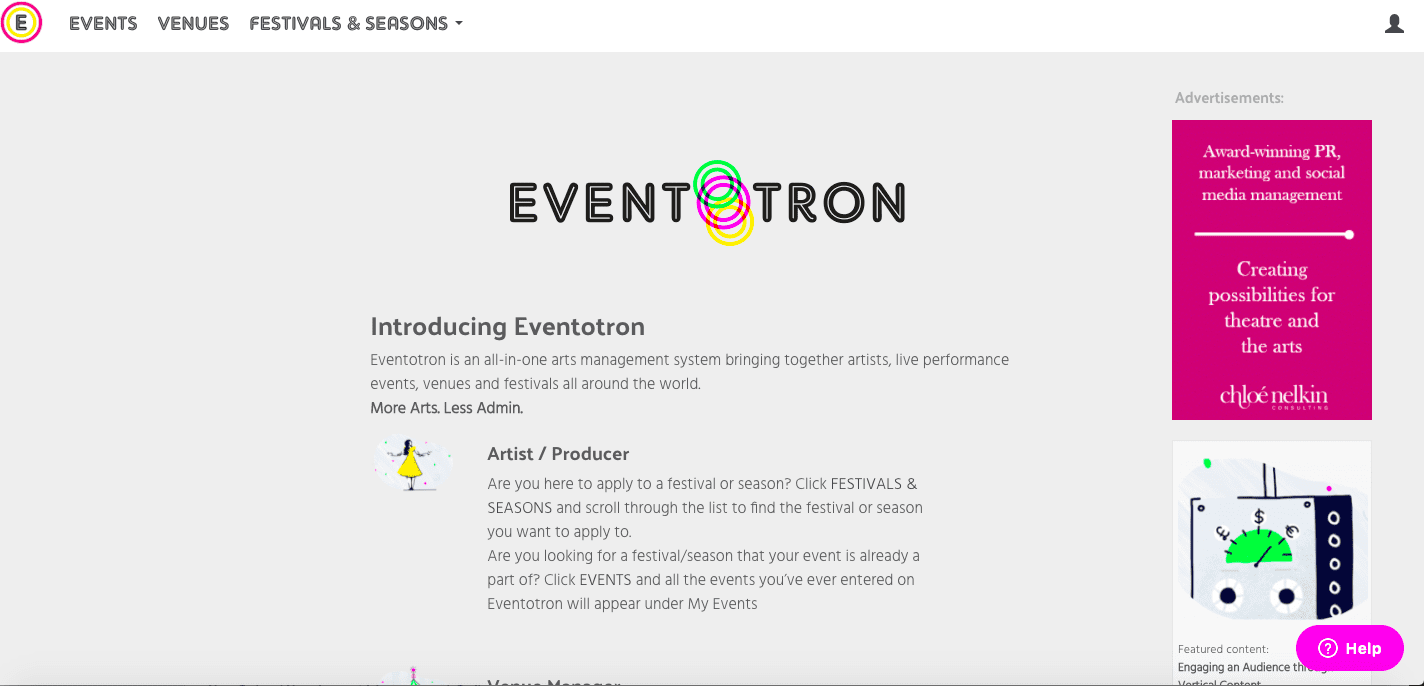 Link it to your homepage or a specific landing page and start seeing the benefits of advertising with Eventotron.
Banner advertising: £550 (3 months) / £250 (1 month)
For more info and to check availability contact Holly Whytock: holly@eventotron.com
Email Advertising
We keep Eventotron users up to date on new features, share our industry-focussed blog posts and promote our clients' forthcoming festivals and events.
→ Monthly emails to festival and season managers (300+)
→ Six news updates a year to artists (15,000+)
Get your brand straight to the inboxes of arts professionals around the world. Eventotron email campaigns consistently receive a higher than industry average open and click rate.
Email banner (festival and season managers): £175 (2 months) / £100 (1 month)
Email banner (artists): £275 (2 emails) / £200 (1 email)
For more info and to check availability contact Holly Whytock: holly@eventotron.com