A step-by-step guide to adding an event to Eventotron and building a profile.
First things first, you need to create an account
Register / Log in
Go to https://www.eventotron.com/ and click Events in the top menu
Enter your email address in the 'New Users' box then click 'Register'. You will receive a password by email very quickly. If you haven't received a password within five minutes, please check your spam / junk email. If it's not there, please email help@eventotron.com  and we'll get you sorted out ASAP.
Account already exists? If you get a message saying your account already exists, put your email address into the 'Existing Users' box and you can then follow the process for getting a new password.
Need a new password? If you have forgotten your password or can't find your welcome email, you can click the link at the bottom of the 'Existing Users' box to get a new one.
If you've already set up an account just fill in the left hand 'Existing Users' box with your email address and the password you were sent in your welcome email.
Once you are logged in, you'll be looking at the events section (if you are not, just click 'Events' in the top menu). If you already have events in the system, they will appear under My Events and the festivals/seasons they are part of will appear as icons underneath.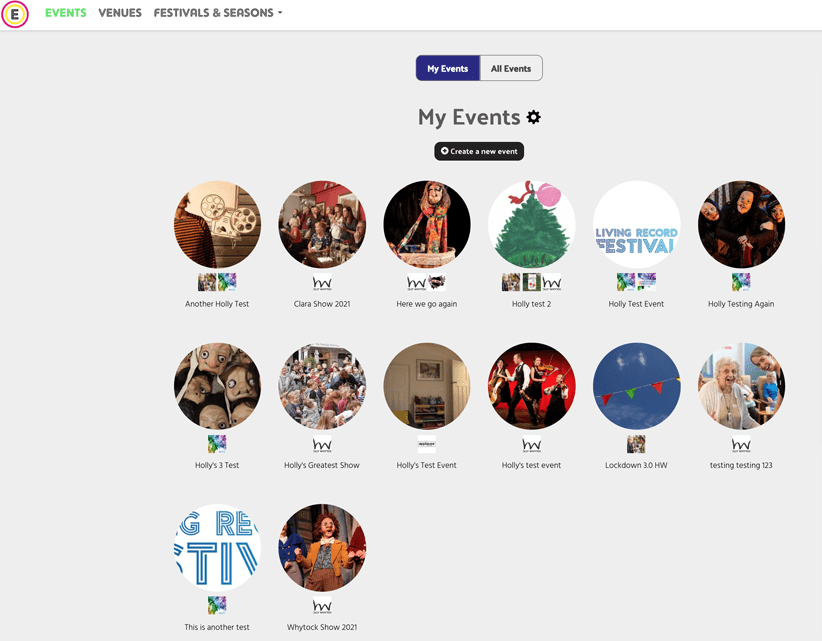 Add a New Event
To add a new event, click +create a new event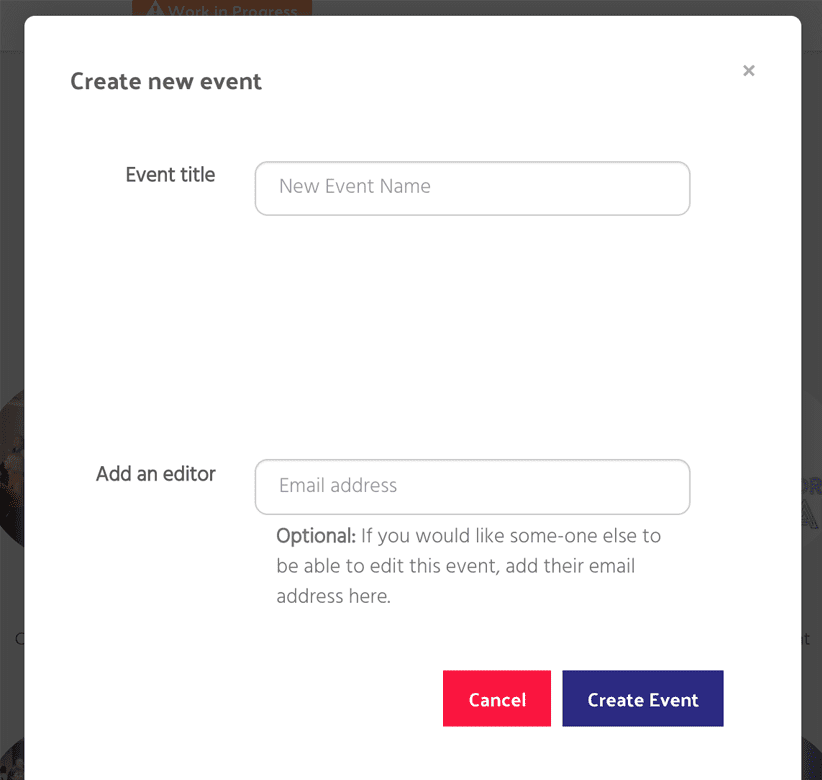 This pop up will appear.
Event Title – this is the title of your show / exhibition / workshop / talk / demo
Add an editor (optional) – you can put in an email address of another person who you'd like to be able to edit your event here
Hit Create Event
That's it – your event now exists in Eventotron. The next steps are to complete the Touring & Promotion section and apply to a festival / season.
Touring & Promotion
This section gives you the opportunity to share as much information about your event as possible and to keep adding to it over time. It is what festival managers / season managers / programmers will see when they search Eventotron.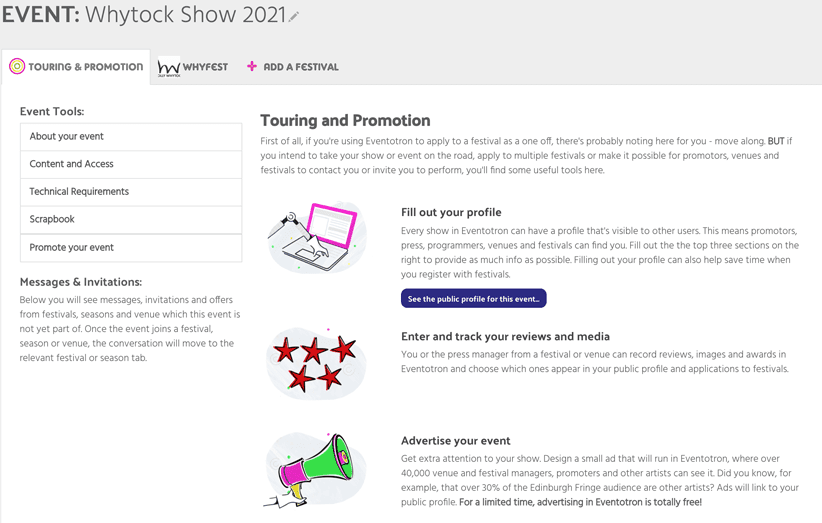 Fill out your profile
About your event
Main Admin contact – this will automatically show you as the main contact – you can click on your name and add a new contact if you want to assign the event to someone else to manage.
Author – the individual or group that has written the script for your event – if applicable.
Event Description – Describe your event to help with applications to Festivals and Venues. Please note this is not the marketing text you will use for brochures and websites.
Brochure Image – Upload the main image for your event. You can edit it within Eventotron using the pencil icon.
Genre – Choose the main genre of your event – this will help programmers/festival managers/season managers find your event in specific searches.
Subgenre – Choose a subgenre for your event
The rest of About your event is self-explanatory – let's move on to:
Content and Access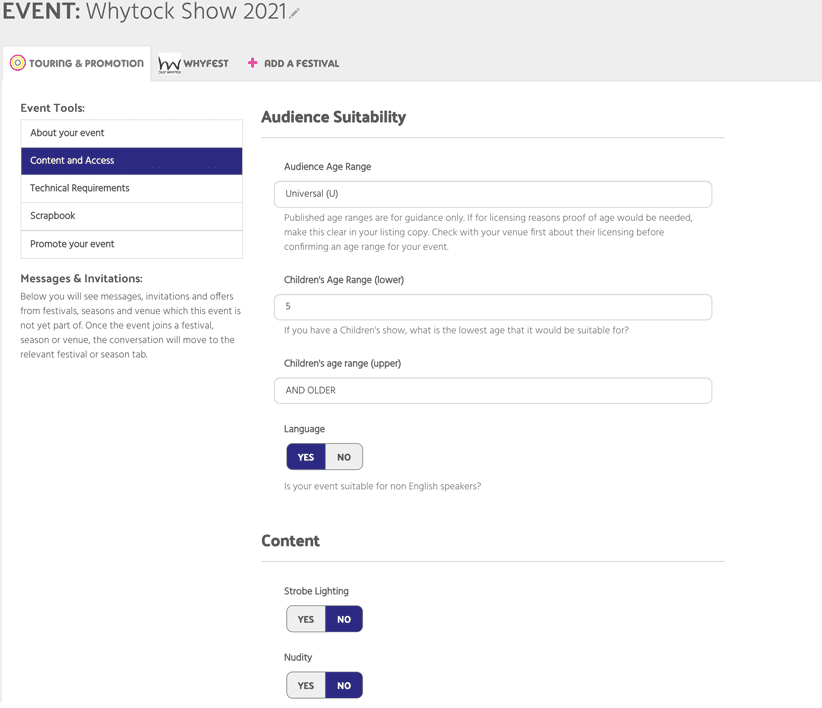 Audience Age Range – Choose an appropriate age range for your event. Published age ranges are for guidance only. If for licensing reasons proof of age would be needed, make this clear in your listing copy. Check with your venue first about their licensing before confirming an age range for your event.
Children's Age Range (lower) – If your event is for children, what is the lowest age that it would be suitable for? Leave blank if not applicable.
Children's Age Range (upper) – If your event is for children, what is the upper age that it would be suitable for? Leave blank if not applicable.
Language – Must the audience have good comprehension of the event's primary language to understand and enjoy it? Choose Yes/No
Content
Strobe Lighting – flip to Yes or No
Nudity – flip to Yes or No
Swearing – flip to Yes or No
Content Warning Details – Please detail anything the Box Office may need to be aware of including nudity, adult content, strong language, walking involved, strobe lighting etc. Do not include age limits.
Access
Relaxed Performances – Relaxed performances are designed to welcome people who will benefit from a more relaxed environment, including people with an Autism Spectrum Condition, sensory and communication disorders, or a learning disability. There is a relaxed attitude towards noise and movement. Flip to Yes or No.
Audio Description – Are you about the offer audio description for audience members? Flip to Yes or No
Touch Tour – Are you able to offer a guided touch tour of your event before it begins? This is beneficial to blind and visually impaired audience members. Flip to Yes or No.
Technical Requirements
Set description – describe your set if you have one
Set photo – upload a photo of your set
Set plan – upload a set plan if you have one
Naked flame – flip to Yes or No
Pyrotechnics – flip to Yes or No
Special Lighting – Include any information about your lighting requirements
Lighting Plan – upload your lighting plan if you have one
Company technical equipment – detail any technical equipment that you will be bringing with you
Scrapbook
This section gives you the opportunity to share reviews, videos, images, awards and press releases on your profile – keep coming back to it to add accolades!
Click +Add an Item
You will see this pop-up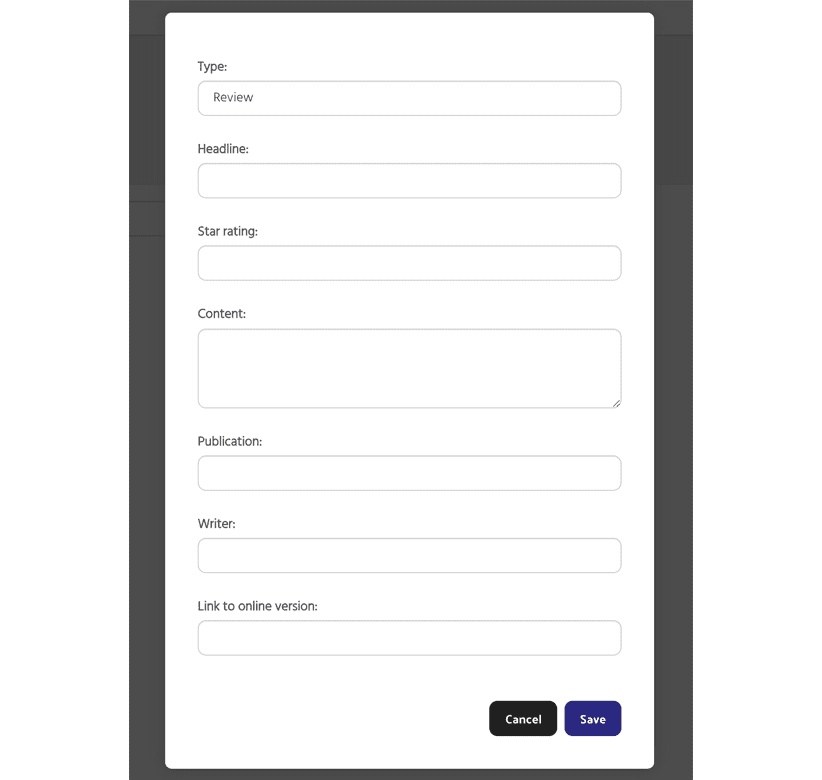 Type – choose what type of information you are sharing – then complete the questions.
Click save.
You can choose whether or not to share the item to your event profile (if you untick this, festival/season managers and programmers will not be able to see the item)
Promote your event
Put your event directly in front of venue managers and promoters locally and around the world by advertising in Eventotron. You can also help boost your audience – did you know, for example, that nearly 30% of ticket buyers at the Edinburgh Fringe are also involved in an event?
Just upload your image (you can edit it to size using the pencil icon) and insert some short, attention-grabbing copy. Preview your ad and your profile and when you are sure you are happy with it, simply click: Submit for approval.
Messages & Invitations
Here you will see messages, invitations and offers from festivals, seasons and venues which this event is not yet part of. You can send responses from here too. Once this event joins a festival, season or venue, the conversation will move to the relevant festival or season tab.
Go Public
Once you are happy with the information you have provided and are ready to go public, just flip the Private button to Public and your event will be searchable by festivals, seasons, venues and promoters!
To apply to a festival / season
Click on the + ADD A FESTIVAL tab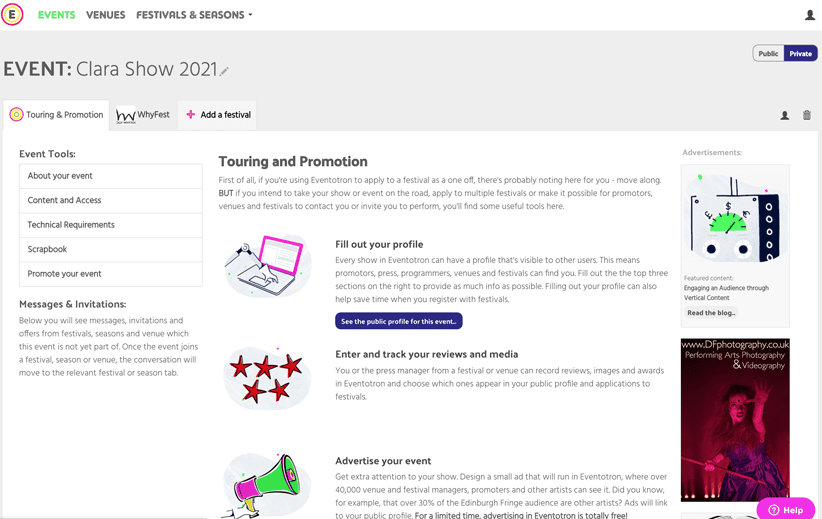 Scroll through the list of festivals and seasons currently accepting applications and hit APPLY on the festival/season you wish to be part of. Complete the questions. Those in red are required and you will not be able to move onto the next section until you've completed them.
If you are having difficulties completing a festival / season application or registration then contact the festival / season directly or use the Eventotron help button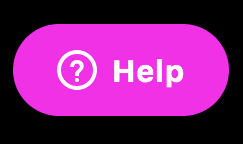 That's it!