This is a guide to setting up the Box Office – SSBO tab so you are ready to start selling those tickets!
Go to the Box Office – SSBO tab in your management dashboard.
Here are some quick links to help you navigate this guide:
Options
If you wish to take ticket booking fees – put in the amount:
Per Ticket Fee (free) – enter a number (no currency sign) if you want to take a booking fee on free tickets
Per Ticket Fee (regular tier) – enter a number (no currency sign) if you want to take a booking fee per regular tier ticket
Per Ticket Fee (top tier) – enter a number (no currency sign) if you want to take a booking fee per top tier ticket. Leave blank if not applicable.
Tier Threshold – put the amount above which the top tier ticket fee becomes applicable.
For example, all tickets under £10 are regular tier and all tickets over £10 are top tier, the tier threshold is 10
If you do not have a different fee for regular and top tier this can be left blank.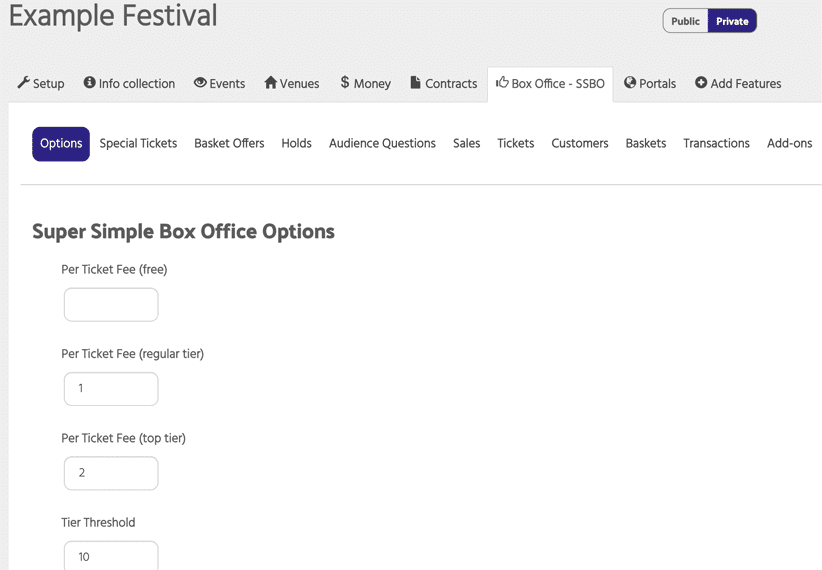 Ticket Footer – Here you can add some text to appear in the footer area of your tickets. If you are confident with HTML, you can change formatting and add images in the source code.
Door Tool Terms and Conditions – Before using the Eventotron Doortool, all users must agree to your terms and conditions. Policy details your enter here will replace our standard privacy notice.
Stripe Test Account – Enter your Stripe Test Account for the purposes of testing an integration. It is important that this field is cleared before going live. This is only for testing purposes and doesn't have to be completed.
SSBO Donation Text – Super Simple Box Office encourages ticket buyers to make a small donation to the Festival or season. Please include any relevant messaging here.
Donation Amounts – Please enter a list of numbers, separated by commas and no spaces
Streaming Site – By default, audience members with a ticket for a live streamed or archived event will be sent to an Eventotron-hosted page to view their stream. If you are set up to host the streams on your own website or box office sub-site (for example, you may be using the Eventotron WordPress plugin) then enter the base address of the site here. Only applicable if you program live streamed or archived digital shows.
Full Price Name Override – Here you can give your full price ticket a different name in Super Simple Box Office if needed.
Hide Ticket Value – Only flip to YES if you don't want event managers to see the gross ticket sales for their event
Ticket Splash Screen –  flip to YES if you want to display a message to ticket buyers before they add tickets to their basket. Use for T&Cs, point them towards membership schemes or similar.
Splash screen image – upload an image to appear on your splash screen
Splash screen content – add text to appear on your splash screen
Splash screen background – choose a background colour for your splash screen
Splash screen text – choose a colour for the text on the splash screen
Call To Action text – this is a button that appears on the splash screen, this text should be short and explanatory, ie: Find out more about membership
Call to Action link – input the link for the call to action button (the membership info page in this example)
Splash Screen Dismiss Button Text – this is the button to dismiss the splash screen, this text should be short and explanatory, ie: No, take me to the box office.
Special Tickets
Here you can create special ticket types and apply them to individual performances or events. Here's how:
Click on New ticket type…
We'll use a 2 for 1 offer as an example.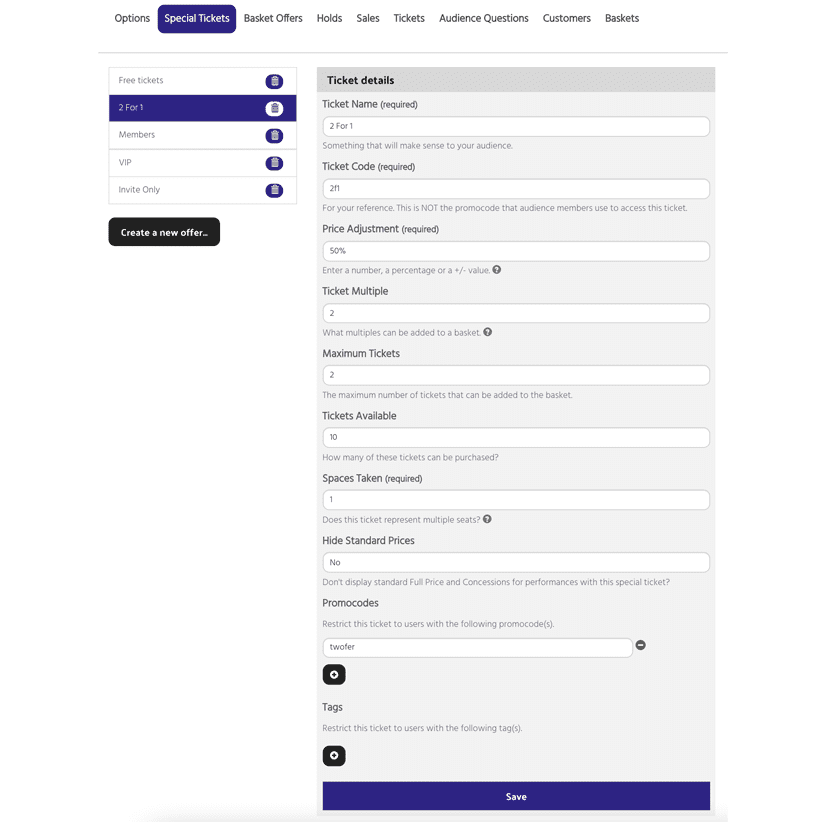 Ticket Details
Ticket Name – this needs to be something that will make sense to your audience. In this case we'll call it 2 for 1
Ticket Code – for your reference. This is NOT a promo code that audience members use to access this ticket.
Price Adjustment – enter a number, a percentage or a +/- value. For this example we've inputted 50%
Ticket Multiple – what multiples can be added to a basket. In this instance enter 2 – meaning tickets must be bought in pairs
Maximum Tickets – The maximum number of tickets that can be added to the basket. For this example it's 2
Tickets Available – how many of these tickets can be purchased?
Spaces taken – does this ticket represent multiple seats? In this example, each ticket represents 1 space taken
Hide Standard Prices – indicate whether or not to display standard Full Price and Concessions for performances with this special ticket?
Promocodes – Restrict this ticket to users with the inputted promocode(s)
Tags – Restrict this ticket to users with the following tag(s)
Then hit Save
Now go to Applying the Ticket to in the right hand column and click +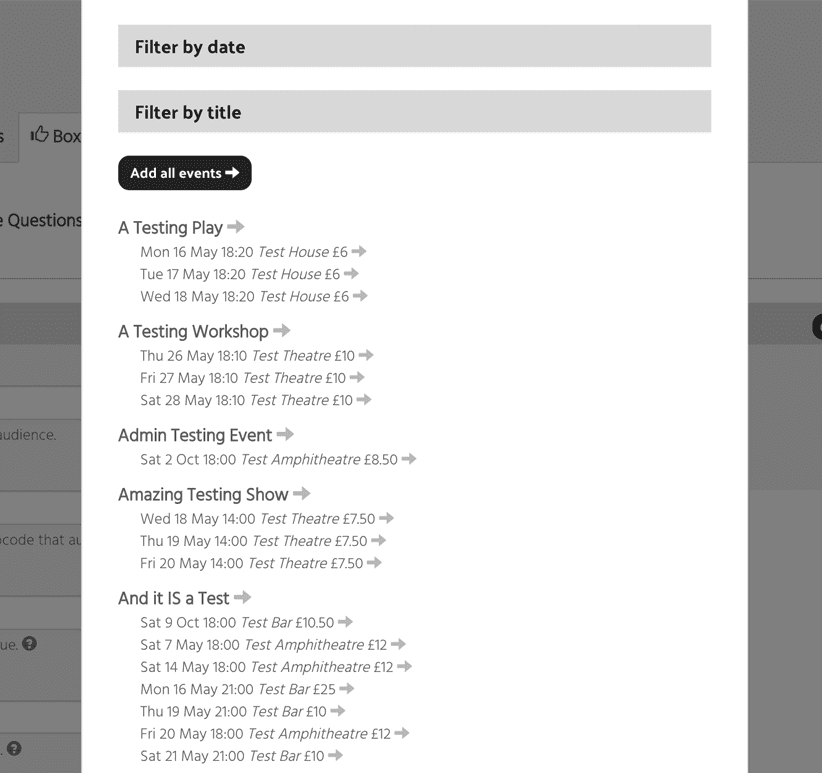 You can filter your events by date and title. Click the arrow/s next to the event or individual performances you want this ticket offer to apply to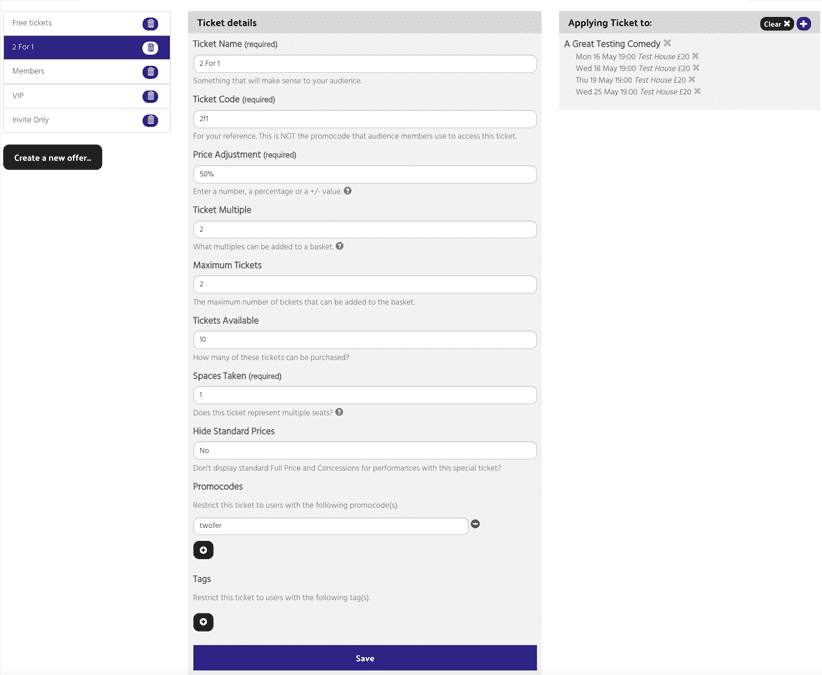 Click Save at the bottom of the page.
Basket Offers
this is in development
Holds
This is where you can create holds, effectively putting tickets aside for your specified groups on applicable performances.
Create a new hold…
Hold details
Hold Name – for example: Company Comps
Hold Access – Select who can access the hold (Season / Festival Manager, Venue Manager, Event Manager / Artist)
Available to sell – select whether the hold can be sold if not taken up.
Tickets to hold – maximum number of tickets to hold on a performance by performance level.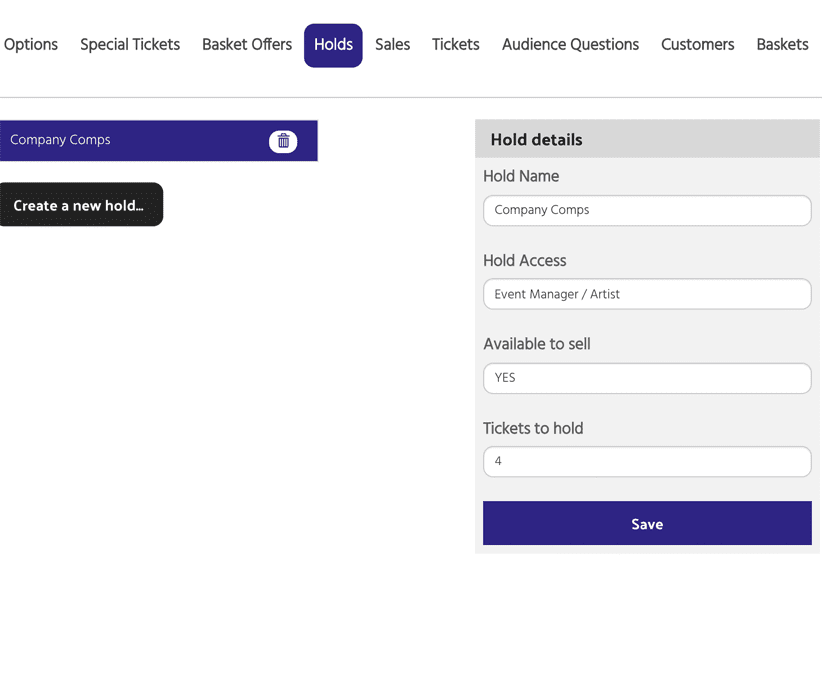 Click Save
Now click Applying offer to… +
Select the performances you wish to apply the hold to.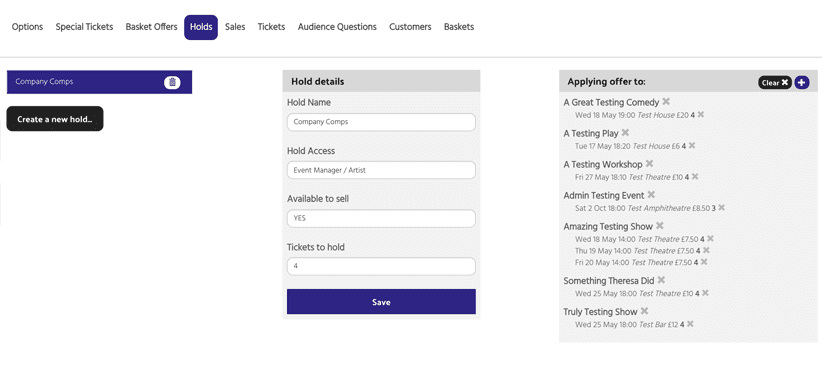 Click Save.
To view and allocate your holds – go to the event/performance you have applied holds to via the Events tab in the management dashboard. Click on Dates, Times & Prices. Click the More… button under the specified performance.

You will see the Event Hold listed. To allocate a hold click +Add Comp or Reservation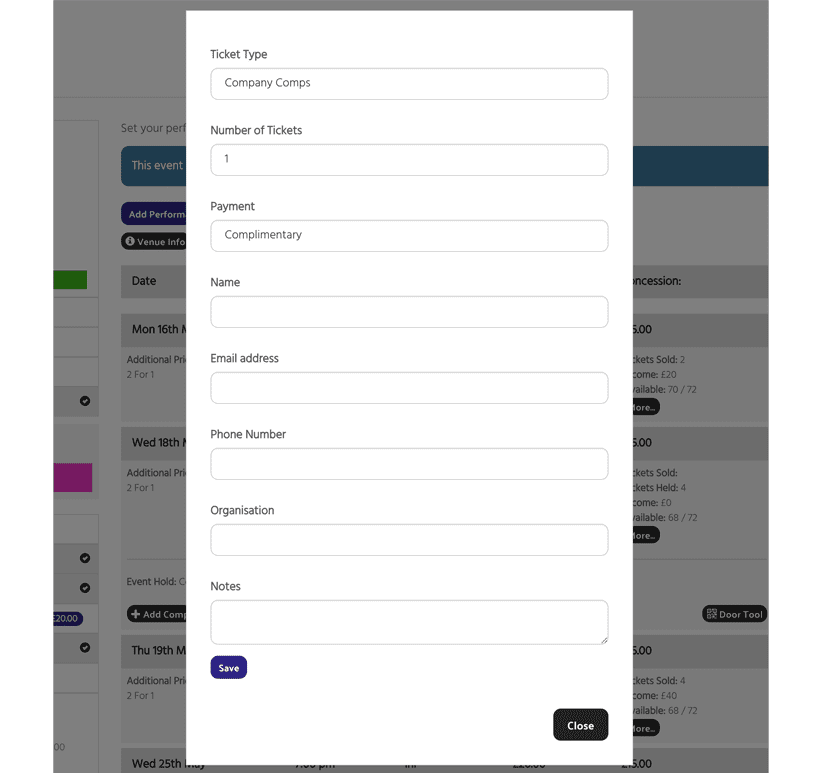 You will see your hold as a ticket type (if there is more than one type of hold applied you will be able to choose which here)
Select the number of tickets
Payment – Select whether this is complimentary or a reservation to be paid for on the door
Input the customer information – name, email, phone no, organisation and notes.
Hit Save.
You will see your hold listed and the attendee will have received an email ticket.
Audience Questions
Audience contact details are collected by default. You can use this section to create some simple questions to gather additional information from your audience members.
You can also add explanatory text which appears at the Checkout point of the ticket sale: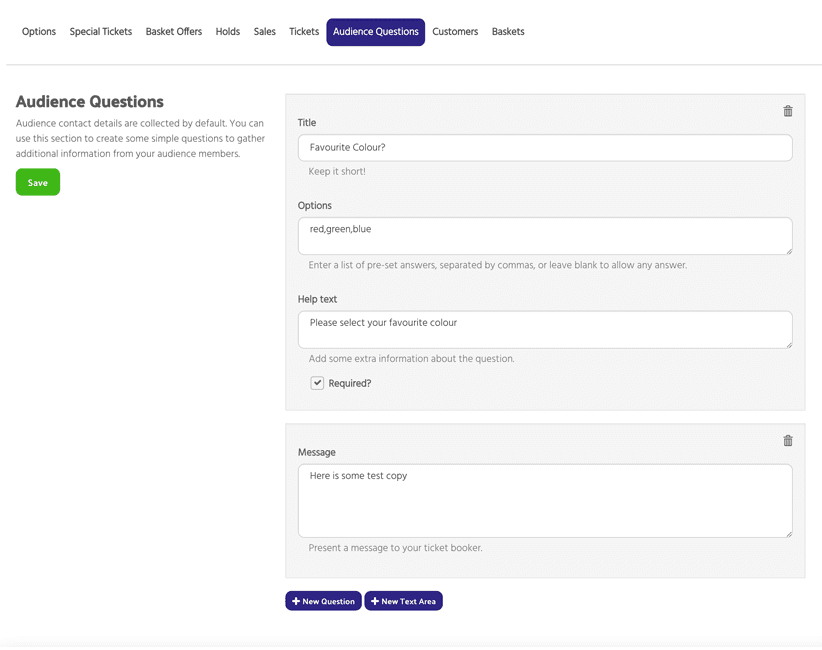 Here's how this looks on the frontend of your website: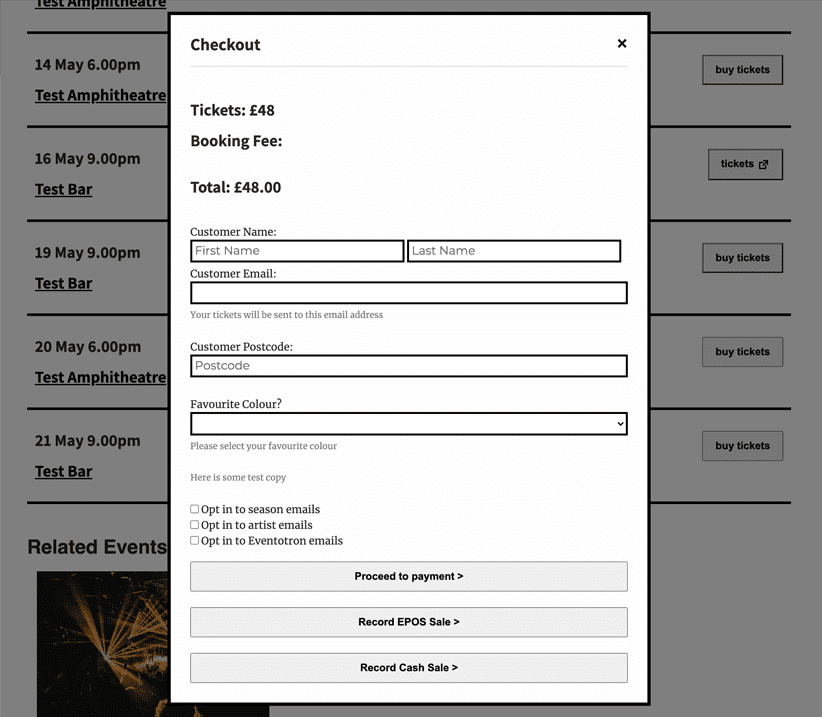 Sales
Here you will see a Sales summary with total tickets sold, number of comps issued and the total value. Under this will be a list each event with performances, number of tickets, comps and value.
Tickets
This is a filterable list of all ticket sales and includes customer information. Use the Filter Tickets box to filter and the blue spreadsheet icon allows you to export to CSV
Customers
Here is a filterable list of all your ticket buyers. You can click on an individual to see all the customer details they have inputted and also to add a tag.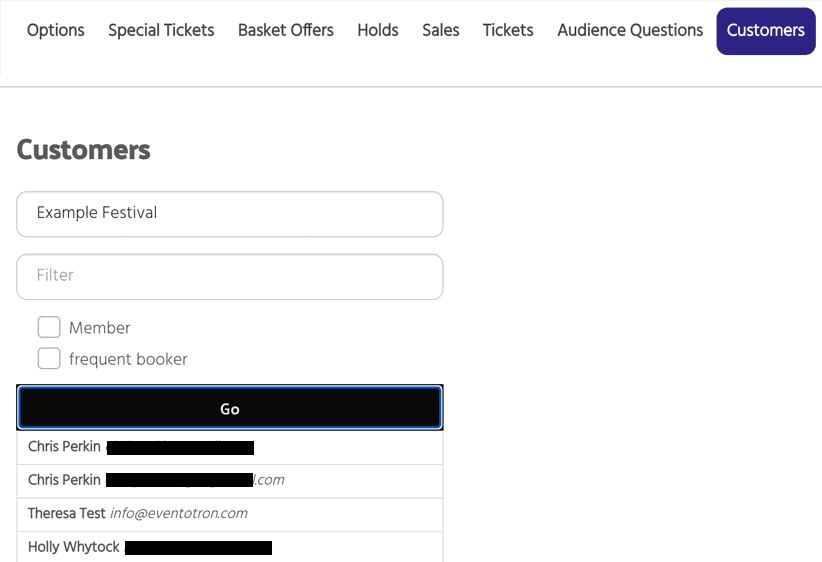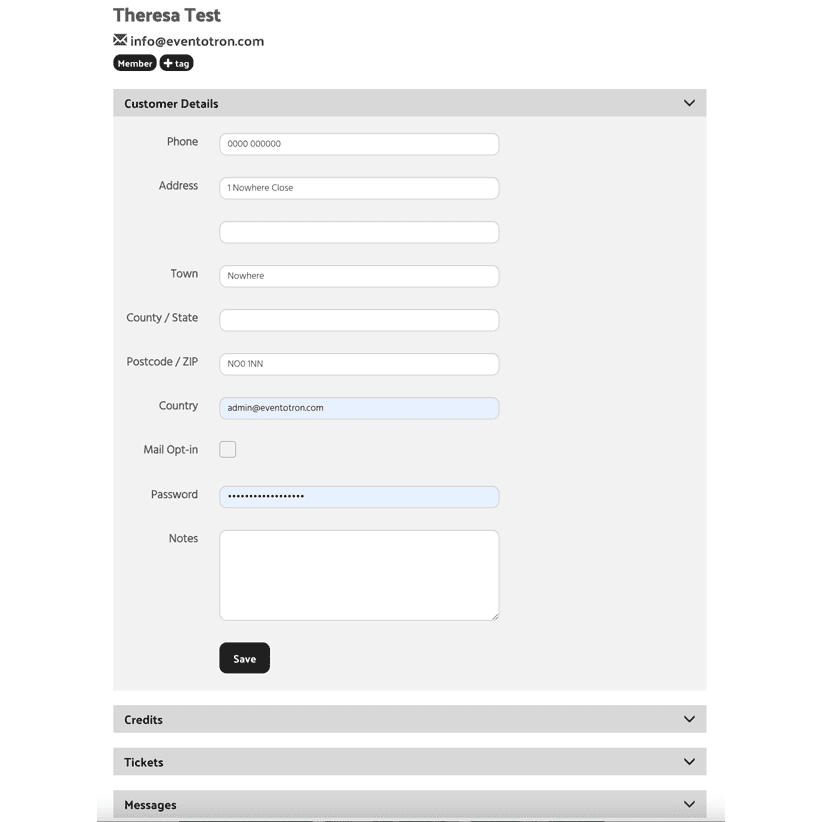 Credits – coming soon
Tickets – click to see all tickets purchased
Messages – coming soon – keep track of correspondence with customers.
Baskets
This is a list of all baskets with fees indicated.
You can see baskets that resulted in sales and those which were started and left before making a purchase.
You can filter and export these results.
Transactions
Here you will see a filterable list of all ticket transactions. You can export to CSV using the navy blue spreadsheet icon.
To see the transaction information click on the black ID button of the transaction. Here you can:
Move tickets to a different performance date: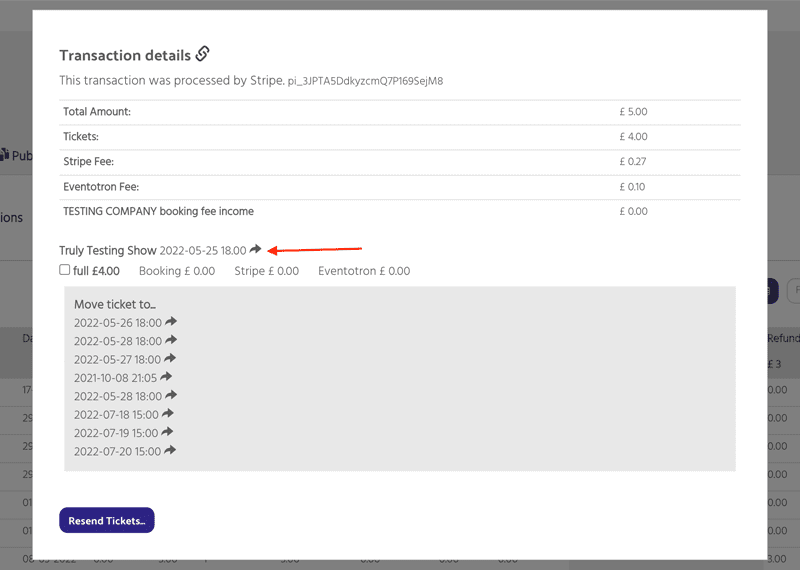 Refund tickets by ticking the ticket price: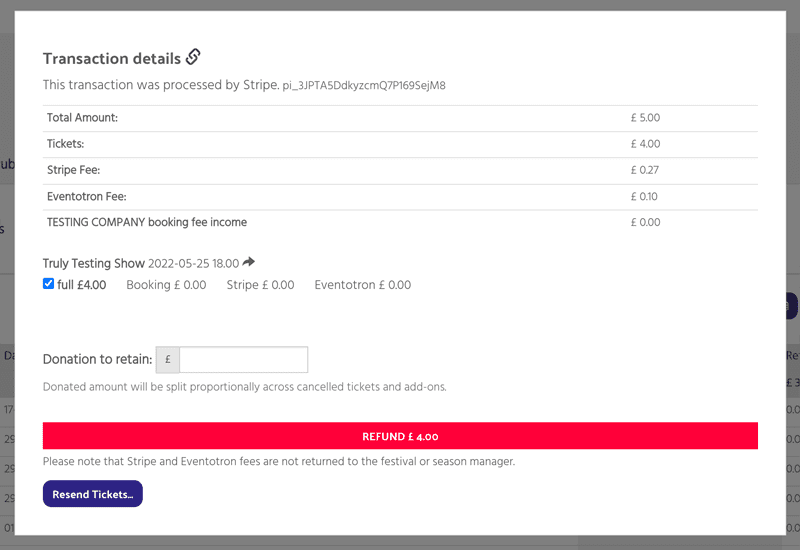 And resend tickets to the purchaser.
Add-ons
Create items that can be sold to your artists and audience members. Items you create can be placed within your registration questionnaires and/or in your Super Simple Box Office checkout.
Whats a SKU? It stands for 'Stock Keeping Unit'. Every item must have at least one SKU. So for example, your item might be 'Tote Bag' and you might have 'Red' and 'Green' and 'Pink' SKUs, each with their own inventory, description and even pricing.
Click Create an Add-on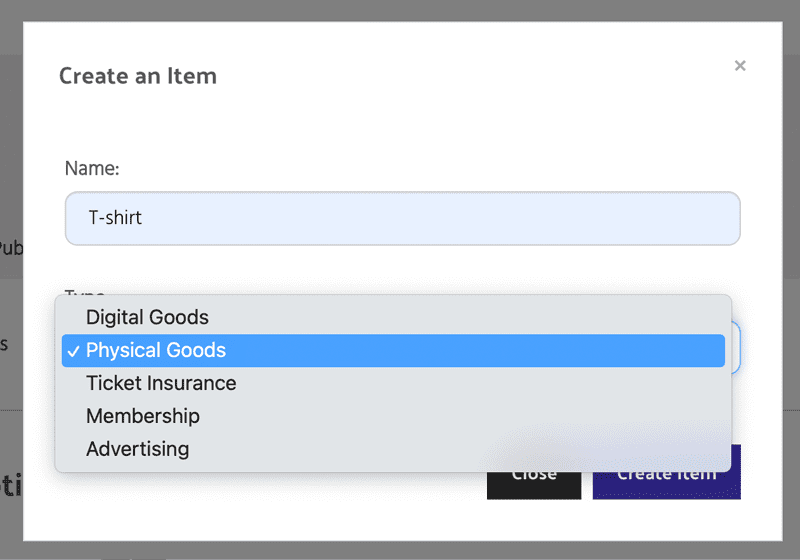 Give your add-on a name and choose the type (Digital Goods, Physical Goods, Ticket Insurance, Membership, Advertising)
Click Create Add-On
Item Options
Name – here you can edit the name you inputted if needed
Description – explain what the add-on is
Image – upload an image to promote the add-on
Include in the SSBO Checkout Flow – set to Yes if you want the item to be available to purchase in the SSBO checkout window
Bypass SSBO Basket – If set to 'YES', the customer will be prompted to pay immediately. If set to 'NO' the item will be added to their basket along with any tickets or other merch items they may buy. 'Bypass Basket' is useful when you want a customer to be able to buy something quickly, especially if that item (like a membership) might effect the pricing of future ticket purchases.
Events – Choose whether you want the item to be purchasable with all events or selected events.
Status – set to Available, Sold Out or Hidden as appropriate.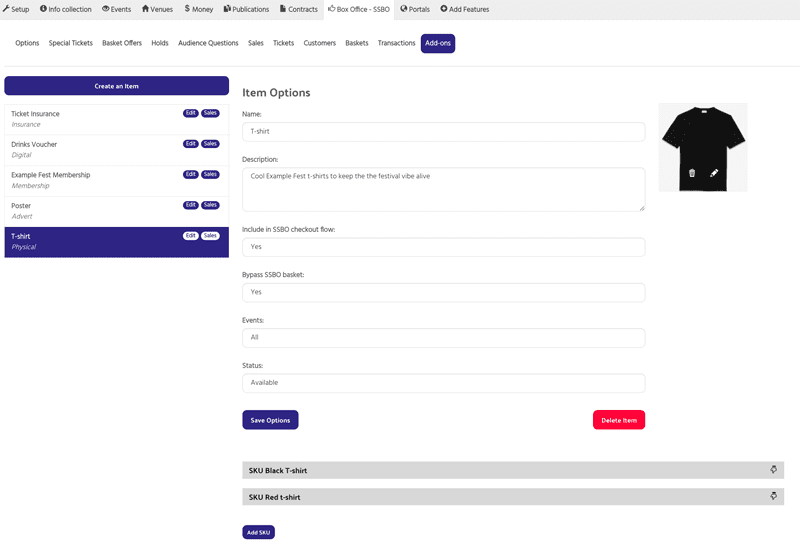 Save options
SKU – Stock Control Unit
Give it a name
Description (if different to the main item description)
Price – enter the price
Internal price – enter if different to the price
Add Tax – select No or the appropriate tax rate
Require a delivery address – select Yes for physical items that need to be mailed out to purchasers
Status – select available, sold out or hidden
Per Sale – select whether single or multiples of the item can be purchased in one transaction
Tag – Tag customers who purchase the item (for eg: Member)
Ticket Note – Enter any text you want to have appear on the ticket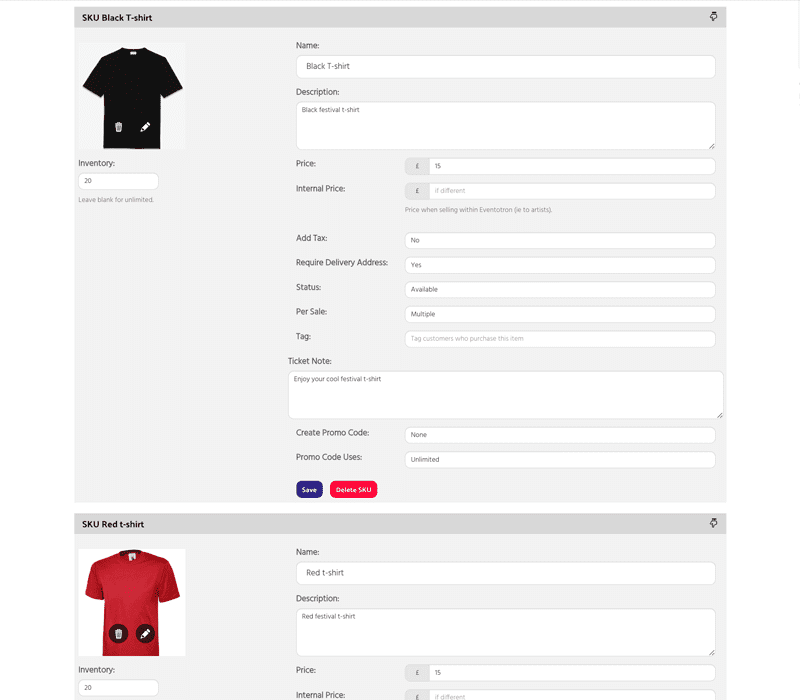 Click save.
If you have further SKU, click Add SKU and complete the form.
Once you have completed your Add-On set up, log into your wordpress website and go to Eventotron Settings in the dashboard. Click on your festival/season tab and Refresh Season. You will see your add-on/s appear under Available Merchandise in a similar way to Events. Import.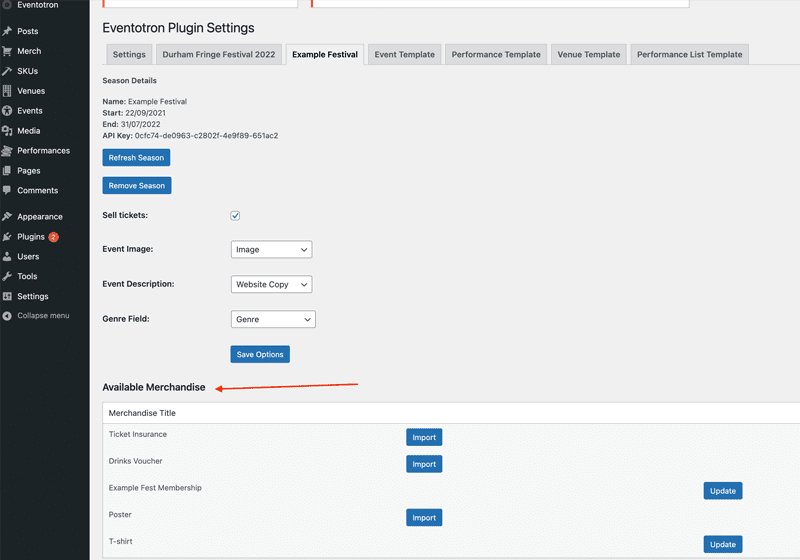 The plugin creates posts for add-ons in a similar way to events – the posts will appear here: https://yourwebsite.url/merch/